It has been a busy week this week with one thing and another. Monday my daughter fell from the slide in the garden and fractured her collar bone, so she now has her arm in a sling and an appointment for the fracture clinic next Wednesday.
Tuesday we went away on holiday, we went to the Lake District for a few days, we love it up in the lakes, but F breaking her coller bone meant we were limited to what we could and couldn't do. Normally we'd go to Grizedale Forest, which has some lovely walks that the children can manage, amazing views, without being too steep. Small legs don't do steep!!
Because of the fall and the fracture I have to admit I was concerned about how she would manage even the most gentle of walks, only having one arm!! So Wednesday we got in the car and drove to Windemere, found the
Lakeland Limited
Store, and after 15 minuites in there decided that shopping in Windemere was a bad idea!!
Next stop the
Aquarium on the Lakes
, which was another disaster, it was heaving it down with rain at this point and lots of people had obviously had the same idea, we had no change for the car-park so DH went into the Aquarium to get some, they wouldn't change his money, said we had to go to the steamers to get change. So the Aquarium lost out on a family of 6. Why do places have these stupid rules that only harm their own business???
Back into the car, and heading off to who knows where!! We came across a sign post for a wild animal park which we followed, down into a little village with a stop for lunch and then off to the
South Lakes Wild Animal Park
It wasn't raining, it was wet, but not raining and it was a lovely afternoon.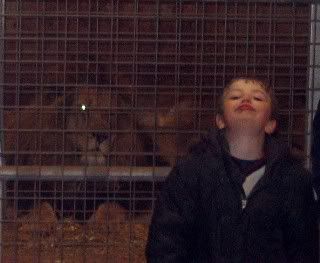 Michael and Friend
Thursday, we were less organised in the morning due to a difficult night with F and bad arm, so we didn't get away as early as planned, but did have more of an idea as to where we were going. We'd decided to go to
Muncaster Castle
via the
Wrynose and Hardknott Pass
can I just say I can imagine the views around the Pass are amazing, but when the place is shrouded in cloud it is scary!! We never made it all the way over the Pass, someone had broken down at the top of Hardknott and so it was blocked....but Wrynose was amazing, even in the clouds, we could just about make out waterfalls and streams running along side the car! It is not for the faint-hearted though!!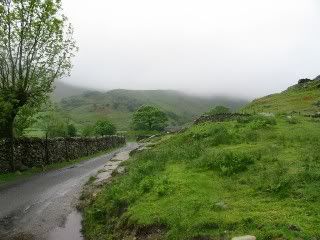 Taken from the start of Wrynose
Muncaster Castle was lovely, and a great day out, although I wouldn't recommend actually looking around the Castle with very small, hyper-active autistic children!! Especially when it's busy!!
The Owl Centre and the flying display were lovely, they have some beautiful birds there, I have to say Michael was somewhat distraught to find he couldn't actually stroke the owls!!! Michael loves owls, a few years ago we took him to a farm where they had a barn owl that you could actually stroke, and everytime we turned round Michael was heading back to the barn owl!!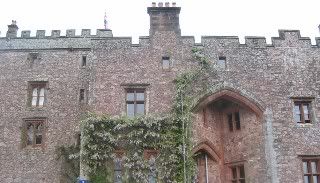 Muncaster Castle