No school for Michael today, he's had a snow day. Nothing like the snow the rest of the country seem to have had over the last week or so, but enough to close some of the schools around here, poor J, was the only one out of my 4 who had to go into school today.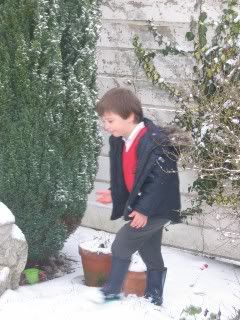 Anyway we spent the day at home finding things to keep Michael and his sister occupied, DH had just come in off a night shift, and Michael doesn't understand about Daddy sleeping, it's day time as far as he's concerned Daddy should be up.
We did try to build a snowman but the snow was snowball snow as opposed to snowman snow, it just wouldn't stick together properly to make big snowmen, it just fell apart, and it was so cold outside, even Michael who doesn't feel the cold that much, soon gave up and wanted to be in.
Once in we baked cakes, they love baking little fairy cakes!! Then the postman arrived with a package from America. Andrea who co-owns the forum I belong to had sent over some easter goodies, and very nice they were too. Andrea, that is chocolate to die for!
But also inside the package was an Easter Egg kit, so we boiled eggs and dyed them and then decorated them. Michael and his sister had a ball. Michael has green fingers, literally from dunking the egg into the dye.
End result: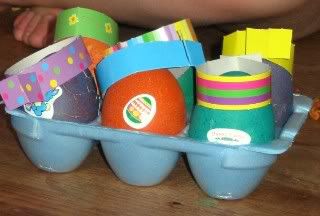 We've saved some of the tablets to make some more for Easter holidays so we can have an Easter Egg hunt.
Then this afternoon we have played with playdough, and watched a bit of TV, and before we knew where we were it was time to go and get J, from school.
This evening Michael got into a bit of a disagreement with his sister, she slammed the living room door, (yes, she is only 3) and trapped his finger in the door. It has sliced through the skin on the tip of his finger, fortunatly not too deeply, but deeply enough for it to need steri-strips and a plaster.
Two hours later, Michael was still wailing about his finger, bless him it must have hurt. But the thing that distresses him more than anything is the plaster.
Michael can't cope with plasters, or blood, if he cuts himself he wails and once it's stops bleeding as far as he's concerned it's all over and done. Have to have a plaster and it isn't over and done until the plaster is removed.
I am so hoping that it will be healed enough in the morning for the plaster to be removed, or tomorrow will also be spent wailing and distressed. That isn't nice for him or for anyone else!!